In the last few months, I've been at several events where I have met fellow researchers from a range of different disciplines. This has entailed coming into contact with many people who I would not normally encounter in a typical working week. Notably, it has involved talking to many people who work in the sciences rather than just in arts and humanities.
At school, the breadth of the Scottish education system meant that I was able to study a mixture of arts and science subjects at secondary level. Indeed, the five subjects that I chose to study as Highers were English, French, German, Maths and Physics. Although my first degree was in French and Philosophy, being able to combine arts and sciences right the way through secondary school may explain why I also studied Statistics during my first year.
Since then, I have generally remained more firmly within the confines of the arts or arts and humanities. Nevertheless, I remember meeting researchers from other disciplines at postgraduate training events when I was doctoral student. As a lecturer, such encounters have been somewhat rarer. I have discussed issues to do with teaching and student support with colleagues from many other departments at meetings but not always research.
However, things have started to change over the last year. First of all, I participated in a series of 'random coffee trials' organised here at Bangor University. These involved being paired with someone from a different department and discussing your research together over coffee. Although I can't really say that much potential for collaboration emerged from the two meetings I had in this scheme, it was good to hear about other people's research and meet colleagues from other departments with whom I wouldn't normally come into contact. First, I met a colleague who worked in the field of public health and then another one from psychology.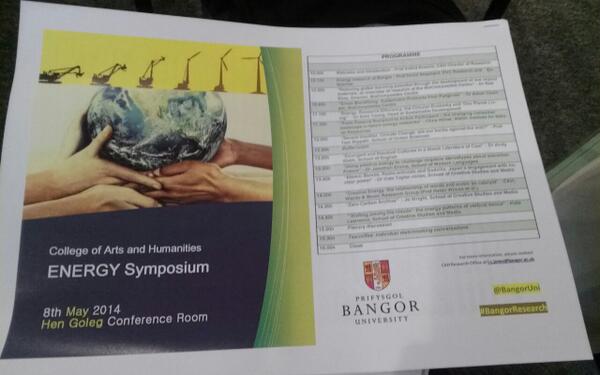 In May of this year, I participated in a one-day symposium on the theme of energy that was organised by the College of Arts and Humanities here at Bangor University. The event brought together researchers from the sciences as well as arts and humanities in order to discuss the importance of the theme of energy. The talks covered topics such as sustainable packaging, recycling, media debates on global warming and the importance of energy in both Welsh literature and Asian cinema. My own presentation focused on the symbolic importance of energy as a theme in documentary films about young people living in suburban France. I began by examining different definitions of energy and how they could be applied to the films that I was analysing.
Despite there being people from so many different disciplines present, it was clear that there common interests in over-arching themes to do with energy and how it is perceived. This really showed the benefit of bringing together people from different disciplines who are all interested in a broad common theme. On a personal level, it provided me with a new way of approaching some French documentary films from a slightly different angle from before.
The most exciting opportunity to discuss my research with people from different disciplines that I've had this year has come via a scheme called the Welsh Crucible. The Welsh Crucible is a scheme whose main slogan is 'developing future research leaders for Wales' and it does so by annually bringing together 30 researchers from Welsh universities for a series of two day events. These events, known as labs, focus on general topics such as working with the media and policy makers as well as networking and also how to develop innovative cross-disciplinary research.
Through participating in the Welsh Crucible, I've been fortunate to learn a lot about presenting and publicizing research and also met a lot of fellow researchers from different disciplines. Initially, it was much easier to see links between my own research and those of fellow participants from similar disciplines. However, I have progressively become aware of links between my own research and that of others who are in more different disciplines. Some of this stemmed from a 'speed dating' style session where all participants were paired up with another researcher and had three minutes to talk about each other's research. Even from these 29 fairly brief conversations, some exciting commonalities emerged.
What my recent experiences have taught me is that there is real value in bringing together people from different disciplines. Inevitably, this can be somewhat speculative but a speculative dimension is often something that underpins innovative research. There is an element of unpredictability within this process, but I'd argue that this is precisely what makes it so exciting.
How important do you think it is for researchers from different disciplines to work together? What do you see as the advantages and challenges of these sorts of collaborations? Feel free to let me know via the comments box below, I'd really welcome feedback on what I've said here.
Remember that you can also subscribe to this blog by entering your e-mail address in the box on the right of the screen. You can also follow me on Twitter and like this blog's page on Facebook.